---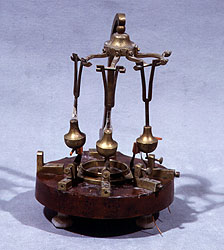 93. Seismograph
Bologna, 1873
author unknown
wood and brass with compass and electrical contacts
diameter of base 16.5 cm, height 26 cm
[Inv. MdS-177]


The inventory compiled in 1873 by Alessandro Palagi records at n. 65 an automated-electric Meteorograph and at n. 66 an automated-electric Seismograph, noting that "they are under construction". The next inventory in 1907 records these instruments again (at numbers 46 and 47) but declares them both unusable.
The instrument under consideration can, almost certainly, be linked to the above-mentioned automated-electric Seismograph.
Seismic observations had in fact been carried out alongside meteorological ones for some years in the Specola, even if less frequently and with simple instruments, like the seismoscope, traces of which are thought to have been found in another instrument, not recorded in the inventories, comprising a simple small basin with a hole in the centre and supported by a kind of tripod on a wooden base, this too holed in the centre. The holes might have been designed for passing a wire through, a wire capable of closing an electric circuit by touching the edge of the basin upon the arrival of seismic waves [Inv. MdS-187].
The fact that a seismograph was under construction in 1873 might have had something to do with the Bolognese Count Antonio Malvasia (1819-1884). This latter (as pointed out by D. Mariotti in G. Ferrari op. cit.) had, in 1872-73 and in his family house, which was on the same street as the Specola, set up a seismic observatory and established a local network of informers, collecting news on earthquakes in the old ephemerides and Bolognese gazzettes. It is possible therefore that the astronomer in charge of meteorological observations was in touch with Malvasia, even though no records exist in the archives.
Only the sensory equipment of the instrument remains, consisting of four weights, supported by small riders, capable of closing an electrical circuit in consequence of an earthquake tremor which triggers the oscillation of the equipment. A compass in the middle of the instrument allowed it to be oriented so as to be able to register the direction of the shock recorded. The recording apparatus has been completely lost.

D. Mariotti (1991), p. 98.
G. Ferrari (1991).