---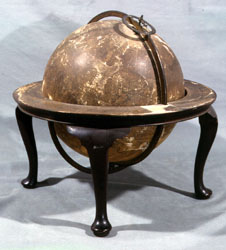 58. Terrestrial globe by J. Senex
London, 1740
John Senex (fl.1715)
wood and papier-mâché covered with printed paper
diameter 32 cm
[Inv. MdS-99]


Built by the Englishman John Senex - author of a memoir on the construction of globes and contemporary of Isaac Newton to whom he dedicated some of his globes - it was donated to the Institute by Benedict XIV in 1752.
The title of this GLOBUS TERRAQUAEUS is illegible. The equator, tropics and ecliptic, as well as meridians, parallels and numerous loxodromic lines as navigation aid are all drawn. The east coasts of Australia and New Guinea are not depicted.
In the list of globes kept in Italy Matteo Fiorini does not cite this globe or the celestial one, both present among the instruments at the Specola from 1752. Their poor state of repair means much restoration is needed.

M. Fiorini (1899), p. 438.
J. Senex (1738).