---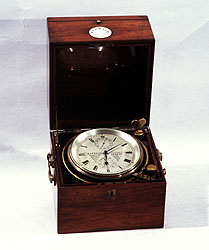 94. Marine chronometer by Barraud
London, c. 1850
Paul Philip Barraud (fl. XIX sec.)
silver and brass, double case in mahogany
wind-up 8 days
20.5 cm, 19.5 cm, 19.5 cm
[Inv. MdS-75]


The writing on the quadrant reads Barraud / Maker to the Royal Navy / 41, Cornhill / London / n.2365.
The hour and minute hands are blue and wound up can last for 8 days. It has gimbal suspension and an Earnshaw type escapement.
The number 2365 engraved on the quadrant allows us to put a date on it to the extent that it comes shortly after the number 1988 of the analogous chronometer at the Greenwich Observatory, dated around 1835-37.
The 1924-1940 inventory indicates that this chronometer (Inv. No. 2608) was bequeathed to the Istituto di Astronomia by Dr. Luciano Toschi from Imola, previous owner also of the moorish astrolabe described in file 1.
In 1992 it was restored by Leano Colliva of Bologna.

T.N. Clarke, A.D. Morrison-Low, A.D.C. Simpson (1989), p. 228.
An Inventory of the Navigation and Astronomy collections in the National Maritime Museum Greenwich (1970-73).