---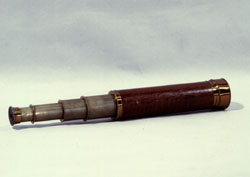 49. Telescope by C.A. Steinheil
Munich, c. 1870
Carl August von Steinheil (Rapportsweiler 1801-Munich 1870)
brass, wood
length: extended 109 cm, closed 31 cm
diameter object lens 6 cm
[Inv. MdS-77]


5-draw telescope in wood and brass, with object glass cover and sliding lid to protect the eye-piece. The words Steinheil in München N. 14924 are engraved on the side of the object glass mount.
It is kept in a 33 x 9 cm wooden case covered in skin.

E. Engberts (1970), pp. 64, 144.
J.A. Repsold (1914), pp. 66-71.